My Europe travelogue so far…
London Day 1: Flying With MAS, Heathrow Connect & Piccadilly Circus
London Day 2: Covent Garden, British Museum, British Library & Phantom Of The Opera Musical
London + Rome Day 3: YHA Oxford Street, Gatwick Airport, easyJet & Tiring Rome
Rome Day 4: Six Beds, Colosseum, Roman Forum & Palatine Hill (Part 1)
Vatican City + Rome Day 4: Vatican Museum, Sistine Chapel, St. Peter's Basilica & St. Peter's Square (Part 2)
Rome + Pisa Day 5: Santa Maria Maggiore Church, Pensione Rinascente & Leaning Tower Of Pisa
Pisa + Venice Day 6: Piazza Garibaldi, St. Mark's Basilica & The Grand Canal
Venice Day 7: Foresteria Valdese, Libreria Acqua Alta & Thello Train
Paris Day 8: Hotel Andrea Rivoli, Palais Garnier & Raining
Paris Day 9: Paris Panoramic Views, Notre Dame Cathedral & Eiffel Tower
Paris + Versailles Day 10: Château de Versailles & Musée du Louvre
Tsk… photos are mostly about tennis – my love. Hehe
Yes yes breakfast is yet again homemade. They are too good to resist. We took off at 9.15am and reached Porte d'Auteuil Metro before 10.10am. Where's our destination? ROLAND GARROS!!!
It is every tennis fans dream to visit at least one Grand Slam event in their lifetime. Mine no doubt is the same. Coming to Paris during the Grand Slam season, of course I wouldn't put off the chances. Roland Garros is my favorite tournament amongst the 4 Slams (Australian Open being a close 2nd) and though I only attended the qualifying round it was enough to make me a VERY HAPPY girl! Why is Roland Garros my most favorite? It has something to do with Rafael Nadal and the red hot clay!

Once you emerge from the Metro, signage like this will guide you to the stadium.



Here's another one. Cute yeah?

Road signs to the stadium.

Unfortunately we took the longer way to the stadium and had to walk very very far! Like over 30 minutes. Hahaha We reached the appointed gate at 10.40am.

One of the many entrances to Roland Garros Stadium. This wasn't our entrance point. Just a snapshot how it looks like.
Photo from TZ-7.

Our qualifying round Roland Garros tickets @ €20 per ticket. The bottom paper is the online printed ticket which we exchanged it for the official tickets (top) at the entrance.

First sighting of the red clay court and I was like Wohooooo!!!

Qualifying round match on displayed outside Suzanne Lenglen Court.

There are many souvenir shops here, some big and some small like this one.

Suzanne Lenglen Court. And that's her commemorative statue.

Another view of the Suzanne Lenglen Court. As we were there early, there aren't many people at the stadium yet.
Photo from TZ-7.

Court 9. Love this shot.

The beauty of court 9 (and court 11) is where you can stand by the court and watch tennis like no tomorrow. It's where you get up close with your tennis favorite.

Now this is tennis!

Tennis chair umpire Kader Nouni. So happy I saw him. He's chairing the game at court 6.

Tennis line umpires.

Tennis ball boys and girls.

Umbrella girl. Hehehe Nah. She's a ball girl.

And of course there will always be shirtless tennis players. Haha This is Peter Polansky from Canada. Too thin. Kekeke

Spent 30 minutes watching Peter Polansky play in court 6. Here's him serving.

His opponent is Horacio Zeballos from Argentina. His serving pose. Zeballos won the game but he was defeated in the 2nd round.
Then we move on… jumping court here and there.

Roland Garros!!!

Here's another nice one.

Cleaning clay court with drag mat at court 11.

Next is cleaning the court lines with broom.

Now this is what Roland Garros is all about = RED CLAY!!!
Next we decided to visit Suzanne Lenglen Court to try our luck because I remember famous tennis players will practice there.

Look who we have here? It's Serena Williams!

While she's playing, workers are hard on work placing sponsor logo in Suzanne Lenglen Court.

She wasn't practicing earnestly as we can see it from her body language. The shoulder slouching and all. I hate it when she does that. Be confident since you're a champion, Serena. No wonder she didn't last long in this year's 2012 Roland Garros.

Serena Williams throwing rugby ball.

She's practicing on her serve.

Her dad, Richard Williams also her couch is on court as well wearing… sandals. That's so inappropriate! Not sure why he's holding a racquet when he's just walking around. Her mom was there too.

Then at 12pm, we saw Maria Sharapova coming into Suzanne Lenglen Court. Wohooo That was our lucky day. But not lucky enough to see Rafael Nadal. We stayed on over 1pm but Maria didn't pack. I guess she must have booked the court for 2 hours.

Maria Sharapova practicing in Suzanne Lenglen Court. We ate packed 'homemade' croissant lunch and salad here. Bliss.

That's her hitting partner.

Love her confidence.

Many many years back I wasn't a fan of hers but I am now after her comeback from shoulder injury. She may not win that many tournament yet but I just love how she brings herself.

Just like Nadal who has his playing ritual, so does Maria. Her ritual is walking to the back of the court, focus on racquet strings to mentally regroup then fist pump. And you know what? She did that during practicing too. She sure is serious!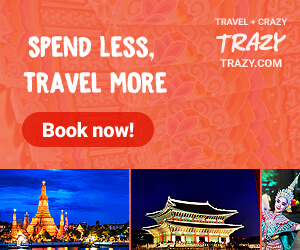 And you know what (again)? This girl went on to become the 2012 Roland Garros Women's Singles champion. Bravo!!!

Then we came here to buy souvenir. A tee €35 and keychain €10. Gotta say they sure are pricey. But then I can't leave without getting 'em. Haha

The time is 1.20pm and as you can see there are more spectators now. That's Philippe Chatrier Court which is prohibited unless you have special pass.

Thankfully we get there early as the afternoon sun is quite hot. We got sunburn from this trip. Yeah another Roland Garros souvenir. LOL
Photo from TZ-7.
We wish we could stay longer at Roland Garros but too bad, we have other plans for the rest of the day. All in all I enjoyed myself tremendously at the qualifying round of Roland Garros. It may not be the official Slam but I had a blast there!

This is Porte d'Auteuil Metro at 1.50pm. No people ya. Kinda scary. Imagine this place to be full of people come the official tournament days.
Photo from TZ-7.
After that we went to Poilâne (a famous bread shop) and Pierre Hermé (the most famous pastry chef in France famed for his macarons!). Then it's back to hotel to rest. Later on we came out again for last minute shopping at H&M (my fav shop), Zara, Mango… all located very near to our hotel.
Oh btw there's this cool shoe shop called Kata Shoe (68 Rue de Rivoli, 75004 Paris) near our hotel. It only display one side of the shoe. If you want to buy you ask for the salesperson for the whole pair. 1 bought 2 pairs of shoes at €8 and €5 while my sis bought a pair at €8. Although the shop looks a bit run down, I don't mind as the shoe is so cheap and nice. Do visit this shoe shop ya.
They have 3 more Kata shops in Paris (all further from the city center):
1. 18et 34 Bd. Barbes
2. 46 Bd. Rochechouart
3. 9 Rue des Poissonniers
For our last dinner in Paris, we had it at a traditional French bistro called Le Trumilou by the Seine River (very near to La Cuisine Paris where we had macaron class). It was in fact the people at La Cuisine that recommended us this bistro.

After dinner, we went for a brief walk by the Seine River. I'm not sure why there are so many people gathering by the riverbank. My best bet is to view the sunset. Guess that's Parisians lepak spot.

I'm thankful that we get to view such a beautiful sunset on our last day in Paris.

Perfect sunset @ Paris.

Then we returned to hotel to rest and pack.
That's all for now. Stay tuned…