So after witnessing ice at Yeongsil Trail in Hallasan National Park and a hearty breakfast meal at Yeongsil Rest Area, we proceed to Jusangjeolli Cliff next. It's about half an hour drive from there. I drove for day 2 and day 3 in Jeju and my sister only drove for the first and last day (4th day). Frankly speaking I had a hard time driving on the left hand side. It's something I didn't expect (to be this hard) because it was fun driving at The Great Ocean Road, Australia which also happens to be left hand driving. I've no idea why. Ohh and I keep mistaking the wiper signal with the light indicator signal. LOL

Entrance ticket to Jusangjeolli Cliff. Cost 2,00 won per person (RM6).



Pretty view. The path to view Jusangjeolli by the cliff.

Jusangjeolli 주상절리 means columnar joints which means geological structure form by volcanic lava in the form of prisms or columns. Can you see the columnar joints?

More columnar joints sighting at the opposite side. These babies were formed about 14,000 to 25,000 years ago.

Nature is beautiful. 🙂

An ahjumma selling fresh raw seafood by Jusangjeolli. I'm tempted to try but the location is not 'hot' enough. Haha

Sighted some giant-sized (taller than us) Dolhareubang 돌 하르방 there as well. These grandfather like statue is practically the symbol of Jeju Island. According to Wikipedia: They are considered to be gods offering both protection and fertility and were placed outside of gates for protection against demons travelling between realities.
Next we drove an hour to the southwestern part of Jeju…

Not to see Sanbang san (Mount Sanbang) but the coastline opposite it called Yongmeori Coast. We parked our car below this mountain where there is a temple which we did not visit. Parking is 1,000 won (RM3).

Entrance ticket to Yongmeori Coast. Cost 2,000 won per person (RM6). It's quite a long walk from parking lot to the entrance booth of Yongmeori Coast.

Cute!

The way down to Yongmeori Coast. It's very steep with large boulders as steps. My mom decide to remain on 'land' while sis and me go discover nature. Mom's too afraid of the boulder thingy.

The first thing I saw was this. Oh wow! Sorry picture can't do justice. It was breathtaking.

According to what I read, Mount Sanbang stretches into the sea which looks as if a dragon's head is going into the water. This part which I'm visiting is the tail of the dragon. Later I'll show you the dragon's head. What is Yongmeori Coast 용머리해안 about? It's about these rocks stacks called Sa-am stacks built up million of year ago. If you want more technical, Yongmeori Coast is a tuff ring formed by layer-by-layer accumulation of tephra (see so technical) produced by hydrovolcanic explosions.

Quite frankly I have no expectation of Yongmeori Coast as I thought it's just some basic rock formation. Ohh I was so wrong. This is one of my favorite place. Just look at this rocks stacks formed many x 100000000 years ago.

As I only visited the tail of the dragon, I promised to comeback again one day and walk the whole length of the dragon!

Ohh and I sighted these. Those visitors are sitting by the shore enjoying fresh raw seafood.

Crystal clear water… blue-green…

Because the scenery was so awesome although I have no idea why my camera only able to capture its beauty at mediocre level (blame the camera lady?), we went back to fetch our mom. Yongmeori Coast is a must visit place. We persuaded our mom and she finally agrees to come down and join in the fun.

Listening to the sea sings is so lovely. 🙂

At Yongmeori Coast we spotted something interesting from afar. Can you guess what it is?

It's the tallest mountain in Jeju. The heart of Jeju. Hallasan!

We were just at the base at Yeongsil Trail this morning!

We saw them again when we're leaving. I asked about the pricing and then decided to just go ahead with this experience. Experience eating raw seafood, experience eating by the shoreline and experience the Korean culture.

There are 3 basins there, the one at the top is 소라 (sora) a type of sea snail, in the middle is 멍게 (myeonggye) – sea squirt or sea pineapple and the one at the bottom is sea cucumber (해삼-hae sam).

The lady is preparing sea squirt on the chopping board.

Our fresh plate of raw seafood… the Korean style! Cost us 20,000 won (RM60)… our lunch. Normally Koreans eat this with soju but as we're driving, no alcohol for us. The dip is chili with garlic and spring onions on the side. On the plate is sea snail, sea squirt, sea cucumber and octopus. Basically I love the sea squirt and octopus. I hated the sea snail and sea cucumber as they were difficult to chew. I kinda regretted a bit ordering this but it was a cool experience. Because they were hard to chew, we were sitting there laughing our heads off. Later we found out you gotta chew longer then it will kinda melt in your mouth. 3/4-way through my stomach start to churn a bit and about of nausea kicked in so I stopped eating. Thankfully all I need is a sweet to calm my stomach down. My mom and sis had to 'pitifully' finish the remaining seafood. It was a difficult lunch. Hahaha I think once is enough for us.

We're on our way to answer nature call. Far away is a wooden ship. On the way to the loo, I saw some ladies selling raw seafood. Guess what? I feel like puking. Suddenly I was afraid of the sea smell.

This is the dragon's head. From the tail, you can walk by the shoreline and reach its head.
We spent about an hour and half in Yongmeori Coast.

Next we drove along Coastal Drive 2 which is between Mount Sanbang (Sanbangsan) and Mount Songak (Songaksan).

Somewhere on top of this 'hill' is Mount Songak (Songaksan).

And on this Coastal Drive 2 between the two mountain is this beautiful beach.

I remember the ocean's smell. It reminds me of seaweed. LOL.

Enjoying the sea breeze.

Saw a cute labrador. Remind me of Chase, Dawn.

Saw this twin island called Hyeongjeseom which means brother sister island.

Kimbap as our 2nd lunch at 3.30pm. Bought these at Emart near where we stayed.

Finally bought a packet of hallabong 한라봉. 5 pieces cost 10,000 won (RM30). I've never bought 'oranges/citrus' this expensive.

One of the town we passed by. This road remind me of the one in San Francisco with trams.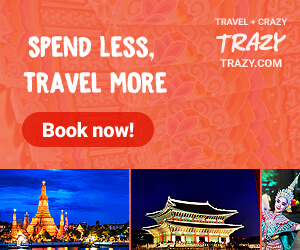 Entrance ticket to Cheonjiyeon Falls 천지연 폭포. Cost 2,000 won per person (RM6).

Beautiful red fruits plant on the way to the falls.

Before coming here, I thought I've never been to this waterfall but as I walked the path to the falls, I realized I've visited Cheonjiyeon Falls in my first trip here. So I guess this is for my mom.

Nearing the waterfalls.

The lackluster Cheonjiyeon Falls. Seriously I would give this a miss.

I much prefer looking at green leaves.

Lovely red leaves. Anyone know the name of this plant? It's definitely not maple.
We wanted to visit Seogwipo Olle Market next but couldn't find parking after 3 rounds. Defeated we decided to fill our stomach for the better. So we head to a restaurant nearby our accommodation for dinner. Read all about this delicious 5 layered black pig meal we had at Tam Gung here.

In our room later that evening, we had a small 'party': Eating hallabong. Oh it was so so yummy and sweet and juicy. It's called hallabong (dekopon in other countries) after the mountain Hallasan as that's where it's primarily grown. Don't you think the hallabong fruit resemble the mount of Hallasan?

And drinking Hallasan soju. I've never tried the normal Korean soju but this soju is quite sweet and less 'kang' (tart? acidic?).
That's it for day 2. Hope you're looking forward to day 3. It'll be another long post. Ahem.
My South Korea travelogue so far…
Incheon + Jeju-do Self Drive Day 1: MAS, Car Rental & Jeju Cherry Blossom Festival
Jeju-do Self Drive Day 2: Yeongsil Trail at Hallasan National Park (Part 1)
Photos from Nikon D80 and Panasonic TZ-7.