I didn't want to be 'cheong hei' (long-winded) in my prologue post but circumstances prevented it. Travelogue is long-winded as always. So here it goes…
I don't think anyone will be surprised if I happen to travel to South Korea one day seeing that I'm a Korean drama addict. Well, actually I've been to South Korea before. This is my 2nd trip in nearly 11 years!!! Eleven years ago (2003) I made my maiden trip to South Korea following a travel group with my sister. I wasn't a drama addict back then. It was all about scenery and winter (yeah to my first snow fall!) at that time. Because the trip was so pleasant, I have always wanted to go back again. Sis and me always reminiscence about our feel good South Korea trip. 🙂

My travel buddy for this South Korea backpacking trip is my sis (no doubt) PLUS my mom! All 3 of us are Korean drama addicts. Hehehehe The purpose of our trip this time can be break down into 3 areas: cherry blossom, Korean food and wanting to absorb the pleasantness again plus chucking in some Korean drama filming locations if time permits. Talking about time, well our journey span 15 days and 15 nights (4th April to 19th April 2014) in 5 locations (province/district/city/metropolis) namely Jeju-do, Busan, Jinhae, Jeonju and Seoul. I've always wanted to experience cherry blossom and so spring it is.

When booking for our MAS trip (about 10 months earlier), we can only gamble at our travel dates as it's difficult to predict when the cherry blossom are going to spring into actions. Turns out I was a bit late, belatedly late and right on time for some cherry blossom viewing locations. Oh well, you can't beat mother nature. Usually cheery blossom will go into full bloom in the southern part first (like Jeju-do) as it's nearer to the equator (warmer) while the northern area (like Seoul) will bloom later as it's colder. A day before my trip, I read news that cherry blossom in Seoul is already in full bloom. Ahh tough luck! So I went into this trip knowing the cherry blossom luck will not be my side. Tsk I choose MAS over AirAsia yet again because the airfare is more or less the same.

It's good to know some easy Korean greetings and to learn Hangul (Korean alphabet) which I had it in me. The Hangul did helped me whenever I need to order food from the menu. Other than that I just resort to my broken Korean language, weird sign language or English to talk to them. Learning how to ask "how much is it?" (이거 얼마에요? / igeo eolmaeyo?) is very important for the ladies. Hahahaha.

Memories from this trip can be divided into pleasant (at the beginning of this trip) to "what man???" (at the ending of this trip). What man? because many sellers in Seoul spoke to us in Mandarin. Hey you, I may look Chinese and I'm a Malaysian Chinese but I'm a banana la. So a lot of time I have question marks above my head. It also spoiled my mood. It feels like I'm visiting China all over again. The "Korean' feeling was lost. In a nutshell, my South Korea trip this time did not fare as good as my first trip there. Maybe I was expecting too much? And when I came back from this trip, I was like "Did I just visited South Korea? How come I couldn't feel it." I think writing this travelogue will help me to appreciate this trip. So let's see how I feel when I finished this travelogue.

It was too bad to hear about MH370 and the Sewol ferry incident that happened around our trip period. Heartfelt condolence to the family of the lost ones.
For Malaysians, you don't need visa to visit South Korea if you're just visiting for a couple of days.
If you have read my Shanghai trip the previous year, you would know that my flight was a midnight flight. I swore never to do it again. Sigh. But I did it again! I can help it if I can but I couldn't. MAS only has one flight per day to South Korea and that's midnight. Thankfully I did not become a zombie this time. I managed to catch some sleep. Fhew! The flight depart at 11.30pm and reach Incheon Airport the next day at 6.25am (Korean time). It's suppose to reach at 7.10am (6 hours 40 mins). So we arrived early. Fyi South Korea is an hour ahead of Malaysia.

Midnight croissant snack presented to us about an hour after we departed from KLIA. It was yummy.



5.17am (Korean time) breakfast. I had egg, sausage and potato wedges. Not yummy. The egg were flavorless while the sausage too salty. Uwekkk… Come on MAS, you can do better than this.

Sunrise at 6.06am.
We bought T-money cards at 7-11 as soon as we touchdown at Incheon airport. T-money is like Oyster card (UK) or Octopus card (HK). The card cost 2,500 won and we top up 10,000 won for each card. This transportation card can be used in subway, bus and some taxi and is 100 won cheaper when traveling by subway or bus. Plus it can be used not only in Seoul but also Busan and many other places.
We planned to go to the beautiful Jeju-do first (which will be my 2nd visit) hence as soon as we landed in Incheon, we took the Airport Railroad Express (AREX) to Gimpo International Airport.

Futuristic and beautiful right? This is the way to AREX terminal at Incheon Airport.

AREX terminal. It took about 30 minutes to reach Gimpo International Airport by AREX at 2,650 won. Yes, you can use T-money card to pay.
We arrived at Gimpo Int. Airport around 8.50am. So you need at least 2.5hrs to 3hrs if you want to transit to Gimpo Int. Airport from Incheon Airport.

Jeju Air checking in counter. We're flying by Jeju Air to Jeju-do. FYI, Jeju Island is also called Jeju-do. Do stands for island.

A Jeju Air airplane.

Legroom inside Jeju Air. For short distance, it's not bad. It's like AirAsia's.

Seating arrangement inside Jeju Air is 3-3. We have chosen our seating earlier via online. Our plane departs at 11.15am and reached Jeju at 12.20pm (1 hour 5 mins duration). Refreshment drinks is served on board Jeju Air. Yay!

As soon as we arrived at Jeju International Airport we proceed to our car rental counter, KT Kumho for direction to the shuttle bus. Hertz in Jeju-do operate under KT Kumho name. KT Kumho and many other car rentals offer shuttle buses to their offices which I think is very genius. The bus took about 7 mins to reach its office in Yongdam2-dong. Update: KT Kumho is now called Lotte Rent-A-Car.
Oh yes, we are going to self drive in Jeju-do. Seeing that it will be a waste of time to wait for public transportation which is sparse in between, we opt for driving and also because the scenery in Jeju is worth it. It'll be my second time driving in oversea after Australia and also my second left-handed driving also after Australia (ah I miss driving along the Great Ocean Road).

KT Kumho car rental office.

Signing our car rental form. We need to show them our car rental reservation form, passport, international driving license (get it at JPJ for RM150 with 1 year validity) and credit card.
As to why we choose KT Kumho, it's because they offer the best rate (especially after signing on to become member online) and because their website is easy to navigate. Ohh plus I have good experience with Hertz.

Our rental car is a Hyundai Avante 1.6L gasoline with Korean GPS. We also armed ourself with our own English GPS and maps! Thankfully it's fairly easy to use the Korean GPS plus my understanding of Hangul helps a lot. One thing I like about Korean GPS is that you can just enter the telephone number and wah la… you get the direction to the intended location. Too bad KT Kumho no longer provide egg (wifi).
The officer check for dents and knocks around the car so that when we return the car he knows if there's any new one. But ahh no fear as we bought full coverage insurance for the car. Then we get the green light signal and the car is ours for 3 days!

Let's start our Jeju-do self drive trip!
Seeing that we are too early to check in to our accommodation, we head to our first visit. It's the cherry blossom we are after. Besides that our accommodation is about an hour away at Seogwipo. So it's only logical to visit the cherry blossom first which is in Jeju city since we're currently here.

Still in the car and we finally saw it. Ahhh so pretty.

Written there 'King Cherry Blossom' in pinkish font. It's called king cherry blossom because the cherry blossom found here are to be larger in size compared to anywhere else. For me, I think they're just a tad larger.

Jeju King Cherry Blossom Festival (제주 왕벚꽃축제) is located at Jeju Sports Complex in Jeju city. It's right beside a stadium. The festival start from 4th April 2014 to 6th April 2014. It was the 5th when we visited.
We go round the sports complex twice as we couldn't find any car park but thankfully later we found an office with large open space. Don't care anymore, we just parked it. Many people followed suit. Haha

Walking amongst these cherry blossom trees sure are surreal.

As the weather was quite bleak, pictures are not that stunning. The shy sun was hiding away.

Lovely!

The cherry blossom trees are all high up, so there's not much close up of the cherry blossom. I can safely said that we were a bit late for this cherry blossom viewing as I can see some stems with no more petals.

Close up of cherry blossom.

Cherry blossom petals on the gravel.

Cherry blossom petals on the grass with a pine cone.

I love it when the wind blows. The petals will fly away so delicately.

The sun decide to come out of hiding and we have a livelier cherry blossom viewing.

Then as we walk further in we found rapeseed flowers amongst the cherry blossom trees.

It was a pretty sight!

Rapeseed flowers. It's also known as canola if I'm not mistaken.

About an hour later, our cherry blossom viewing is completed. Stomach was growling hence we head to the festival ground for late lunch. It was 3pm.

Roast pork anyone?

Chestnut and some other nuts. We bought the chestnut at 5,000 won (RM15). Now, I think back it's expensive.

There were many food stalls set up like this one.

Our lunch: seafood pancake (해물 파전 – haemul pajeon) @ 7,000 won (about RM21.00). There are also 4 banchan (side dishes) namely kimchi, bean sprouts, anchovies and spring onions. The pancake was lovely.

A hotteok (호떡) stall which also sell fish cake (어묵 – eomuk).

Hotteok is sweet pancake. These babies were filled with melted brown sugar. So yum! 1,000 won a piece (RM3.00).

Korean GPS from our rental car. It's 4pm… time to head to our accommodation.
When we checked in to our accommodation at Jeju Yilin Pension, the wind was blowing like crazy. So crazy that the windows were creaking and the wind were making some scary sound. I will review our stay at Jeju Yilin Pension later in the post.
After resting a bit we head out to do a little shopping at Emart which is just 3 minutes by driving from our pension. We bought some food stuff for tomorrow breakfast. The pension does not provide breakfast.

Bought Hallasan soju (한라산 소주) @ 1,170 won (RM3+) at Emart. This Hallasan soju is rare to obtain outside of Jeju. So make sure you enjoy 'em while at Jeju-do. I love this soju.
We had dinner there (Emart) as well at Emart food court.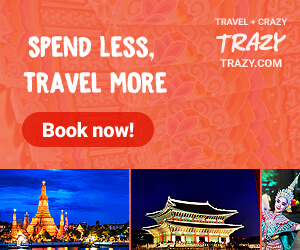 Jeonju bibimap @ 6,500 won (RM19.50). Delicious!

Seafood sundubu jjigae (tofu stew) @ 7,000 won (RM21.00). Again delicious.
That's it for day 1. Stay tuned for day 2 and beyond. 🙂
Photos from Nikon D80 and Panasonic TZ-7.