My 2016 Japan travelogue so far:
Osaka Day 1: Ana Crowne Plaza & Sennichimae Doguyasuji
Osaka Day 2: Osaka Station, Kuromon Market & Dotonbori
Nara Day 3: Todai-ji, Cheeky Deer & Fall Foliage
Osaka + Kyoto Day 4: Nishiki Market & Len Kyoto Kawaramachi
Kyoto Day 5: Kiyomizu-dera, Sannen-zaka & Ninen-zaka (Part 1)
Kyoto Day 5: Kōdai-ji (Part 2)
Kyoto Day 6: Autumn At Beautiful Arashiyama & Kyoto Station
Kyoto Day 7: Fushimi Inari Taisha & Yasaka Shrine
Kyoto & Mishima Day 8: Shinkansen & Beautiful Mishima (Part 1)
Fujikawaguchiko Day 8: Kagelow & Kawaguchiko (Part 2)
Fujikawaguchiko & Tokyo Day 9: Mount Fuji Views, Kawaguchiko Natural Living Center & Oishi Park
Tokyo & Urayasu Day 10: Tokyo DisneySea
Tokyo Day 11: Nui. Hostel, Ameyoko & Takeya
Tokyo Day 12: Autumn At University Of Tokyo, Kappabashi Street & Senso-ji
Yesterday (day 12) was all about fall ginkgo, and today (day 13) will all be about fall maple and also ginkgo! 🙂 Seriously, we were really lucky to have all these chances.

Start the day with breakfast: Corn bread from 7-11 @ 138 yen.

From Nui, we took the subway to Morishita Station on Oedo line and then to Shinjukusanchome Station on Shinjuku line. From there, we walked to Shinjuku Gyoen 新宿御苑. Shinjuku Gyoen is a very large park/garden. It's so soooooo beautiful. If you're a nature lover, I highly recommend this place – no matter the season.

Saw this beauty right before entering the gate. I was charmed, baby. I knew it was gonna be an awesome day. Weather was really nice too.

There are four gates in Shinjuku Gyoen. We entered through Shinjuku Gate. But first, you need to buy admission ticket at the counter on the right. Cost 200 yen for adult. We arrived here at 9.40am.

Our Shinjuku Gyoen admission tickets shot with the colorful fall leaves in the background. 😍 So pretty, right?

This was what greeted us upon entering the gate. A sea of red with throng of photographers.

Striking maples 🍁🍁🍁

So much red ❤️

Don't forget to look up too, ya!

WOWWWW!

Lost in their own world!

Great morning lightings.

Almost bare trees. Stunning nevertheless.

Ate strawberries at the rest area. We bought it two days back at Takeya.

Very near the rest area, I chanced upon these dried leaves that look like a bigger version of maple leaf.

The leaves belong to the trees called London Plane and they are humongous and so pretty.

Looking up at London Plane. 😍

The many colors of maple leaves.🍃🍂🍁

Came upon another beauty.

Wow baby, just wow!

At the Japanese traditional garden area.

Japanese traditional garden. Notice the hoards of people there?

Susuki すすき (silvergrass) and Japanese bridge.

All attention at those maple trees.

Some of them were using really kick-a$$ camera. I didn't feel left out as I think my camera is good enough. 😛

So pretty! Are you tired of the word pretty yet? And yes, I was holding a dried maple leaf.

From those attention-seeker trees with NTT DoCoMo Yoyogi building in the background.

Check out their guns!

Still from the same trees. 🍁🍁🍁

Finally, we moved to another place but still with lots of maples around.

Bought this matcha crepe ice-cream at the Central Rest Area.

Cherry blossom in autumn? Oh yeah, why not?

This is the English landscape garden. The trees on the top left photo were REALLY TALL!!! Btw, I did a crazy thing, by lying on the grass, flapping my arms and legs (to make invisible snow angel) because I didn't have time to sit down on these grasses and enjoy a picnic. Haha

Gorgeous tree silhouettes, thanks to the late morning sun.

We saw more cherry blossom near the management office. The citrus tree (a type of lemon) is located near the Old Imperial rest house if I'm not mistaken. The bottom photos, well they are gorgeous and unique especially the one on the right.

While the rest of the gang went to check out the greenhouse (I actually went inside but quickly head back out as I prefer the real nature), I decided to stay back and rest at the flower bed area where there are couple of giant ginkgo trees, all shedding leaves, which made the ground yellow in color!

Another pretty ginkgo garnering attention.

At the Okido rest area for toilet break. Yup, that structure on the left is toilet. Then we have photographers scrambling for the perfect shot at that maple tree beside it.

Sure, we joined the crowd too. Haha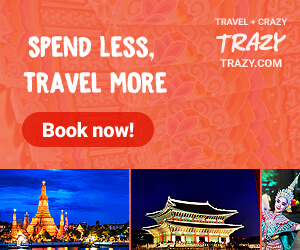 We then arrived at the French formal garden.

God, so pretty!

I love straight lined trees.

Another view of the English landscape garden seen from French formal garden. They are just beside each other.

Roses of many kinds at the French formal garden.

On our way to Sendagaya gate, we chanced upon another rainbow nature. This was at Lower Pond, I believe.

We exited at Sendagaya Gate. As much as I wanted to stay longer at Shinjuku Gyoen, I knew it was time to leave. Good bye to this VERY beautiful park/garden. We spent a whopping 4 hours here!!! It's money well spent and totally worth my time. I can't wait to come back here again.
The reason we came out from Sendagaya Gate was because we have another fall foliage viewing at a location nearby. Well, I thought it was nearby. There were plenty of walking and getting lost a bit.

Ginkgo trees somewhere between Tokyo Metropolitan Gymnasium and Tsuda College (right).

Stopped by Subway for our lunch at 2.10pm. We had Clubhouse sandwich (490 yen) and Turkey breast sandwich (450 yen). Yum yum.
After that we got lost a bit because we're not sure how to cut through Jingu Stadium. I asked the security guard at the stadium how to go to Jingu Gaien Icho Namiki and he told me to go inside and exit at one of the gate.

And so, here we are at the vicinity of the famous Jingu Stadium 明治神宮野球場, where baseball games are held. We went for toilet break at one of the building where we saw they have golf range too. Oh, and I saw lots of good-looking wealthy guys. Haha I guess that is where they hang out. LOL

Finally we arrived. This is Jingu Gaien Icho Namiki Avenue 神宮外苑いちょう並木. Stunning isn't it? This road is the main entrance to Meiji Jingu Gaien. As you can see, the ginkgo trees were over their peak. Most have lost their leaves, which you can see on the ground. There was suppose to be fall festival here but it was cancelled.

Golden everywhere! There were many people.

It was a nice afternoon walk. If you ask me, I prefer the atmosphere at University of Tokyo. This was just too hectic and noisy.

Spiraling up.
In total, we spent only about 15 minutes here. It was all about walking from one end to the other end. Feeling tired, we decided to head back to our hostel, but not before spending some time checking out the views near our hostel.

Tokyo Skytree seen near our hostel, Nui in the late afternoon 4.20pm sky.

Sunset at Sumida River. Nui is located quite near this river.

At the Umayabashi 厩橋 (bridge) – stunning structure, with Sumida river seen on the right.
Around 5pm, we had dinner at Yayoiken やよい軒 again. Feeling energized after dinner, we then walked to Asakusa and did some shopping at Seria at EKIMISE store and Uniqlo at Matsuya store.
Dropped by a convenience store by the name of まいばすけっと which was operated by Aeon to get our breakfast. Also stoppd by 7-11 to get a yummy mini cake!
That's all for day 13. A little more before concluding my Japan trip. It's going to be a year soon since my trip. Haha