Day 15. What did I have for breakfast? I dunno anymore. Haha
Before we leave our hostel to enjoy our very last full day in Japan, we requested our hostel to book a taxi for the next day at the wee hours of 5am.
We also took this chance to soak in the atmosphere of Sumida river that is situated right in front of our hostel.

8.30am fall morning view of Sumida river. Just less than a minute walk from our hostel.



Turn left and you'll see Umayabashi 厩橋 (bridge) and Tokyo Skytree.

Turn right and we get this fab view with fishing boats nearby.
We left our hostel for Tsukiji Market at nearly 9am. We took the Oedo line from Kuramae Station to Tsukijishijo Station. Then it's a short walk to the market. We arrived around 9.30am. We entered Tsukiji Market 築地市場 main entrance and from there we can feel the ambience of the fish area of the inner market. Although by then the inner market is open to public, we didn't visit the fish and seafood areas as I read the place is rather narrow and has carts and turret trucks moving around. Moreover, with limited time on our side, I figured it's better to visit other parts of the market. It's not like Tsukiji Market will cease to exit, sure they are moving in autumn 2018 (tentative). 😛
First, we visited the many different stores that's located right inside the inner market.

Knives galore. I initially thought of buying one but after careful consideration, I know I can live with my present kitchen knife. Plus, need to save $$. These knives are no joke pricey!

Those black packages are seaweed (nori) and can you see the hanging sushi rice barrels (right side)?

So many different kinds of pickles.

Dried scallops! Can you spot the giant sized ones?

Grocery shop in the market. I love this kind of establishment.

Fresh vegetables. I bought yuzu at one of the shop. Cost 216 yen per piece.

Turret truck ターレットトラック to transport market's goods. When you see one coming, please make way for them.

Tsukiji Market. Really a clean market. No funny smell.

We reached the restaurants area in the inner market where there is a long row of sushi shops.

Can you spot the few sushi shop names that are super famous with tourist? We skip these shops. Crazy to wait la. Besides we're not really the true sushi fans (read: raw!).

Then I spotted this cute little store selling Japanese plates, bowls and cups by the name of Ueda Pottery 上田陶器店. I spent quite sometime here and ended up with three bowls to bring home.
Then, we went to the outer market to check out more stuff.

Saw another pottery shop. Didn't buy any because I worry for my luggage. Haha

Beans, beans and more beans.

Ahh salmon… yummy.

See the lady's hand in the bucket of cabbage? I'm wondering if this is the Japanese version of white kimchi (non-spicy kimchi). Kindly enlighten me!

In this shop, they have a table set up in the center which you can sample their products. Tsukuhan ㈱ つくはん is the shop name. Remember its name ya.

Because that's where I bought this deep fried wakasagi 若さぎ唐揚 (pond smelt). Best snack in Japan! So crispy, sweet and savory. 540 yen for 90g. Wish I bought more.

Saw this tamagoyaki shop called Tsukiji Yamacho 築地山長 with a long queue. So, we joined in the fast-moving line.

Cooking tamagoyaki is an art.

Tamagoyaki 玉子焼き (rolled omelette) @ 100 yen each. We bought two. Unfortunately, it's not as delish as the one we had at Nishiki Market or the umaki (rolled eel omelette). Both at Kyoto. This one lacks that umami flavor and not that moist.
At 12.07pm, we went to have our sushi lunch at Umai Sushikan うまい鮨勘 at the inner market. Umai is not located at that famous row of sushi shops I showed earlier. It's located between those sushi shops and outer market. Click the link to see what we ate.

After lunch, we continued our outer market shopping. Left is squid and kelp furikake and right is soft cooked tuna. I bought both (with an extra packet of tuna) plus roasted shrimp, which means 4 packets, for only 1000 yen at Edo Ichi 江戸一.

Saw more dried scallops at the outer market.

White strawberry! After missing our chances at Osaka to try the in season white strawberry, we finally encountered them again in Tsukiji Market. This stick of five white strawberries cost 800 yen. Even more expensive but what to do? Must try before we leave Japan. Haha

So is there anything special about white strawberry? Besides the color, yes it's sweeter than normal strawberry but not by much. And that's it. Hahaha
We left Tsukiji Market at nearly 3pm. Overall, we spent 5 hours plus in Tsukiji Market! Can you believe it? I can't. We haven't really check out everything yet. Haha I love this market a lot. It's so lively and colorful. I'll be coming back again for sure. By that time, maybe it would have shifted to the new place.
Then we lugged our market haul to Meiji Jingu. Meiji Jingu 明治神宮 is a Shinto shrine where the spirits of Emperor Meiji and his wife, Empress Shōken are enshrined.

A huge torii to mark the entrance to Meiji Jingu. There are two other entrances to this shrine. We arrived at 3.37pm and the shrine closes at 4pm. Since there are still visitors going in, we followed suit. What we didn't know is that it will be a loooong walk with our shopping bags from Tsukiji Market!

Another view of the magnificent torii (shrine gate).

Barrels of sake wrapped in straw. They are donated by sake brewers.

Barrels of wine donated by the wineries from Provenance of the Bourgogne, France.

The last torii before entering the main shrine area.

Chōzuya.
First thing I did was to go find where to get my goshuin-chō (seal book) chop. No photo though as it was in a building, a little dark and I acted too late on the shutter button.

The main shrine building. I gave a prayer and donated.

Wooden wishing plaques under a very HUGE bushy tree, located beside the main shrine.
We left after that because they were closing. The walk back out was so tiring and also dark.

My sis stopped by at Ootoya (Harajuku) for this missed food. It's called bakudan kobachi 大戸屋風 ばくだん小鉢. If I'm not mistaken it has raw egg, natto, grated yam and raw meguro (tuna).
For dinner, we head back to Kitchen Origin, which is near our hostel for takeaway bento. By the end of the day, we were really spent and just want to chilax in the hostel. Also dropped by 7-11 on the way back.
After dinner, we packed our stuff and reconfirmed our taxi booking with the hostel staff. By this time, one of my mate is not feeling well. We're quite worry if she will have fever. We also wondered if that happens, will she get stop by the custom?
That's it for day 15.
Now to day 16 (last day).
We woke up at 3am, had a little breakfast and packed everything in our luggage. Then the early morning workout began.
Because Nui switch off their elevator from 12am-8am, we had to carry our heavy luggage down the staircase from the 3rd to 1st floor. Actually, that's not a problem because I knew that before booking. I actually requested them to put us at the lowest floor. Problem was their staircase is SUPER CRAMP & VERY STEEP. This I didn't know. This makes it very difficult for two people carrying a luggage down. We have 7 bags and 50% of us are seniors. Anyway, we had a great workout thanks to Nui. Still don't understand the fuss of switching off the elevator since people walking by our room, closing their room doors and using the toilet are more audible than the elevator.
By the time we are all ready at the first floor it was few minutes before 5am. We leave our keys at the counter and very soon we saw a taxi. We confirmed it was our taxi. He's very punctual, arriving before 5am.
We arrived at Oshiage Station (B3 exit) before 5.30am. We then took the elevator to our platform (track 2).

We're riding the Access Express to Narita Airport Terminal 2. Reason I choose the 6.09am train is because I didn't have to make a transfer (as in change train). That's why I made sure we all arrive early to get on this train ride. Btw, we used our ICOCA card to pay for the ride. The train arrived few minutes earlier than 6.09am and departed at 6.09am sharp.
After going through the standard checking in procedure, it's duty free shopping time. Thankfully my mate got a bit better.

This is Fa-So-La Tax Free Akihabara at Narita Airport Terminal 2, where we spent the most time here. Why? Because that's where all the famous Japanese snacks are located.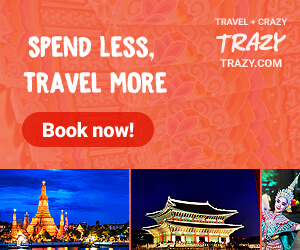 Our haul from Fa-So-La Tax Free Akihabara. I might do a special post on them one day.

Goodbye Japan! And for the very first time, we sat at the last row of the plane because all the seats have been chosen. We flew with JAL.

You've been fab!!
You know what? I was hoping to see Mount Fuji from the air one last time. But all I saw was some islands as we were flying over the sea. I actually looked forward to this even at planning stage. Turns out, I departed at the wrong airport. I should have departed from Haneda Airport!!! But you know what (again)? When we were flying near those islands, I was praying and hoping real bad to just have a glimpse of Mount Fuji because if it was anytime, this will be it, the last chance to catch a glimpse (if it's possible). Because after that we will be flying further away from the land (based on the in-flight map route).

This is Miyake Island 三宅島, one of the few island we were flying nearby. All these while, I was squinting my eyes at those white clouds far away in case miracle happens.

Guess what? Miracle does happens. The clouds decided to part ways a bit and just for a mere seconds, there standing proudly with its distinct snow-capped top… 🗻 Mount Fuji!!! Wow, best goodbye present ever! 😘
Although I know that was Mount Fuji I saw, when I came back home, I looked it up at Google Earth. I'm 1000% sure it's Mount Fuji because there's no other mountain high enough to stand out and let me see it from the plane other than the beautiful Fuji san. Sorry, I'm quite Mount Fuji crazy!
On another news, while on the plane after having our lunch, my sis suddenly didn't felt that good. Not long after that, she purged. We guess it's food poisoning because she never had any altitude sickness before.
That's it from my 2016 Japan travelogue. Took me 10 months to finally complete it. Hope you find something useful here to help plan your Japan autumn trip. 10 months later, I'm still crazy of Japan.
When I started this Japan travelogue, there are 2 questions that I asked at the prologue.
1. Is Japan worth the hype?
2. Is Japan expensive?
I can tell you confidently that YES, Japan is worth the hype! This country is awesome. It's so beautiful, weird, fascinating, awe-inspiring, colorful… I can go on and on with all the adjectives. Haha So much of all that, that everyone who visited Japan will love Japan and will want to visit it many more times.
Is Japan expensive? Oh YES! It's as expensive as my Europe trip. If you know how to budget on certain parts of your trip, I'm very sure you can enjoy Japan just like how you know you would.
I visited Osaka, Nara, Kyoto, Fujikawaguchiko and Tokyo in the span of 16 days and 15 nights. Changed accommodation 4 times, rode on train, subway, shinkansen, taxi, bus and plenty of walking. Felt in love with the deers of Nara and Mount Fuji over and over again. I actually got lost in Seoul's subway more times than in Tokyo. How cool is that? Haha And if you ask me which place I like the most, I cannot give you a definite answer, for each places are unique. So, go where you think your heart will be full. Okay, maybe I'm leaning a bit towards Fujikawaguchiko because I'm Mount Fuji crazy, remember? As for koyo (fall foliage viewing) in Japan, we were really really lucky. We viewed so many stunning colors of the leaves that I don't mind seeing more. I hope to see real autumn in Fujikawaguchiko one day. That's the only place we didn't get to witness koyo as high altitude places start changing leaves sooner than city areas. Still, I'm really thankful for this wonderful autumn experience. I can now tell you, I love autumn more than spring. 🍃🍂🍁
After this trip, I don't think I will plan another 16 days trip so soon. It was really tiring towards the end. My other 15/16 days trips were South Korea in 2014 and Europe in 2012.
What I like most about Japan is the tradition, nature, architecture and food. Notice I didn't say 'people'? Maybe I don't know how to decipher them still, even though I've previously worked with Japanese for over five years.
My completed 2016 16D/15N Japan travelogue spanning Osaka, Nara, Kyoto, Fujikawaguchiko, Tokyo:
Osaka Day 1: Ana Crowne Plaza & Sennichimae Doguyasuji
Osaka Day 2: Osaka Station, Kuromon Market & Dotonbori
Nara Day 3: Todai-ji, Cheeky Deer & Fall Foliage
Osaka + Kyoto Day 4: Nishiki Market & Len Kyoto Kawaramachi
Kyoto Day 5: Kiyomizu-dera, Sannen-zaka & Ninen-zaka (Part 1)
Kyoto Day 5: Kōdai-ji (Part 2)
Kyoto Day 6: Autumn At Beautiful Arashiyama & Kyoto Station
Kyoto Day 7: Fushimi Inari Taisha & Yasaka Shrine
Kyoto & Mishima Day 8: Shinkansen & Beautiful Mishima (Part 1)
Fujikawaguchiko Day 8: Kagelow & Kawaguchiko (Part 2)
Fujikawaguchiko & Tokyo Day 9: Mount Fuji Views, Kawaguchiko Natural Living Center & Oishi Park
Tokyo & Urayasu Day 10: Tokyo DisneySea
Tokyo Day 11: Nui. Hostel, Ameyoko & Takeya
Tokyo Day 12: Autumn At University Of Tokyo, Kappabashi Street & Senso-ji
Tokyo Day 13: Autumn Colors At Shinjuku Gyoen & Jingu Gaien Icho Namiki
Tokyo Day 14: Farmer's Market At UNU, Hachiko Statue & Shibuya Crossing
Tokyo Day 15 & 16: Tsukiji Market, Meiji Jingu & Goodbye