My daily breakfast at Stay in GAM (our lodging) for the next few days until I go back Malaysia. I ate the same thing everyday. It's boring but fill up my tummy pretty good hence I get to save moolah ($$) without going out for breakfast.



First stop is the Noryangjin Fish Market. This seafood market is huge.

Varieties of seafood. You can buy these and then head to the restaurant on the first floor and ask them to cook for you. Since we're seafood overloaded (thanks to Jeju) plus we just had our breakfast, we decided not to.

This is the fame Yeouido cherry blossom road just behind National Assembly (near to KBS). If you remember in my very first South Korea travelogue post, I mentioned I found out Seoul's cherry blossom were already in full bloom right before my trip. So coming here, I knew I was too late. Hence you see most of the trees here are naked of cherry blossom. I knew I was late but still I wanted to come here just to absorb the atmosphere. I was sad of course but walking along this road turns out to be really pleasant as I caught some full bloom cherry blossom (late-bloomers), experiencing the wonderful breeze and walking along the famous Han River (Hangang).

These are sugar candy. There are also stalls selling kimbap, BBQ meat and ice-cream!

Me. Claiming I've been here. Hahaha

The road are filled with cherry blossom petals. So pretty.

And when the wind blows, the petals fly away like pink snow. Not sure you can see from this picture but it was so awesome!

This is another variety of cherry blossom. These have more petals.

Finally, an ice-cream @ 1,000 won (RM3) to end my Yeouido cherry blossom journey.

National Assembly building where all the politics take place.

This is the main KBS building. KBS stands for Korean Broadcasting System. It's the main South Korean TV and radio network. Most of my Korean dramas have come from KBS. A dream come true to visit this building. 🙂

The entrance to KBS. This very steps is where they shoot my-used-to-be favorite 2 Days 1 Night variety show. I came to this KBS building because they have this KBS On Experience Hall where tourist can visit. Admission is free and you just go in and take the tour yourself if you come in group of less than 10 people. What you can find in his KBS On Experience Hall is the history of broadcasting, high-tech virtual studio, KBS News 9 anchor corner, cartoon dubbing corner and so much more. I actually found the whole tour to be pretty boring save for the KBS News 9 anchor corner. Haha.

The new 2 Days 1 Night members poster in the Experience Hall.

My favorite Happy Together members (middle picture) poster.

Dramas posters. Ahh my favorite Beyond The Clouds drama is smack right in the middle.

This is the news room experience which I said earlier that was interesting. Of course I tried it.

Sit on the anchor's chair and read the news from the I-don't-know-what-it's-called-thing there.

Since I know how to read Hangeul, of course I took on the news anchor role. It was fun. LOL

After the tour, we visited the main KBS office. This is the lobby. Of course that's the end point. You need identification to go in. Ahh how I wish I can go in there. I was hoping to catch some actors there but too bad none to be found. LOL

By the time we finished out visit at KBS, it was nearly 3pm. So we had our lunch nearby (in fact just beside the KBS building) at In & Out Sandwich shop.

Chicken breast sandwiches at 5,100 won (RM15.30) per set. We ordered two set. It was pretty good.

Next we took subway to Seonyudo. This is a park by Hangang (Han River). I love the lifestyle here. You can go biking and set up tent here to relax. One of my wish was to cycle by the Han River but unfortunately only I know how to cycle. Can't leave my mom and sis ma.

Reason we came to Seonyudo is to check out this coffee shop at Yanghwa Bridge. Yes that structure with rounded windows is a coffee shop. On the right, can you see a rectangular box? That's a lift. It for the convenient of cyclist. We were lazy to climb the stairs hence we took the lift with other cyclists. Haha

This is Coffine Gurunaru, a coffeehouse brand. Previously this building was taken by Cafe Aritaum (that's what I researched before coming here), so I was a little surprise that it now housed another coffee brand.

View from the window… Hangang. On the right, you can see greenery right? That's actually an island.

Our coffee and snack to quench our thirst and fill up our tummy since the sandwich we had earlier did little. We ordered caramel machiato and cappuccino. That's garlic bread. Not a good combination actually. Haha Total cost 20,200 won (RM60.60).

Next we went shipping at Express Bus Terminal Subway Underground Shopping Mall. This shopping was more fun than the one i had at Idae and Hongdae yesterday. Bought some pretty dresses… they were only 10,000 won (RM30!!!).

We had a no fuss dinner at the underground shopping as well in this restaurant called Myeong In Mandu Restaurant. This is Jjajang Rabokki, combination of jjajang myeon and tteokbokki. Pretty good.

Pork mandu. Not nice. Total dinner cost 8,500 won (RM25.50). Cheapest dinner. Haha

Our last destination was this Banpo Bridge. If you don't know yet, there are many bridges across the Hangang (Han River). And this particular bridge has fountain show at night.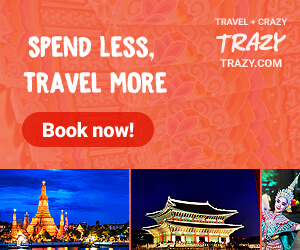 To be frank, there's nothing spectacular about the fountain show. BUT just being there to experience it was wonderful. There were many people there…tourist, locals, lovers and so on. Our show started at 8.30pm and lasted for 15 minutes.
That's all for day 9. Stay tuned!
My South Korea journey so far…
Incheon + Jeju-do Self Drive Day 1: MAS, Car Rental & Jeju Cherry Blossom Festival
Jeju-do Self Drive Day 2: Yeongsil Trail at Hallasan National Park (Part 1)
Jeju-do Self Drive Day 2: Jusangjeolli Cliff, Yongmeori Coast & Cheonjiyeon Falls (Part 2)
Jeju-do Self Drive Day 3: Yilin Pension & Seongsan Ilchulbong (Part 1)
Jeju-do Self Drive Day 3: Seopjikoji & Seongeup Folk Village (Part 2)
Jeju-do + Busan Day 4: Bye Jeju, Dynamic Guesthouse, Cherry Blossom at Dalmaji Road, Haeundae Beach & Gwangalli Beach
Busan + Jinhae Day 5: Cherry Blossom at Yeojwa Stream & Gyeonghwa Station (Part 1)
Busan Day 5: Jagalchi Market, Gukje Market & Dinner at Lotteria (Part 2)
Busan + Jeonju Day 6: Bukyungdang Hanok Guesthouse, Jeonju Hanok Village Scenic Walk & Omokdae
Jeonju Day 7: Jeondong Catholic Cathedral, Pungnamun & Nambu Market
Jeonju + Seoul Day 8: Stay In GAM, Hongdae & Ewha Womans University
Photos from Nikon D80 and Panasonic TZ-7.